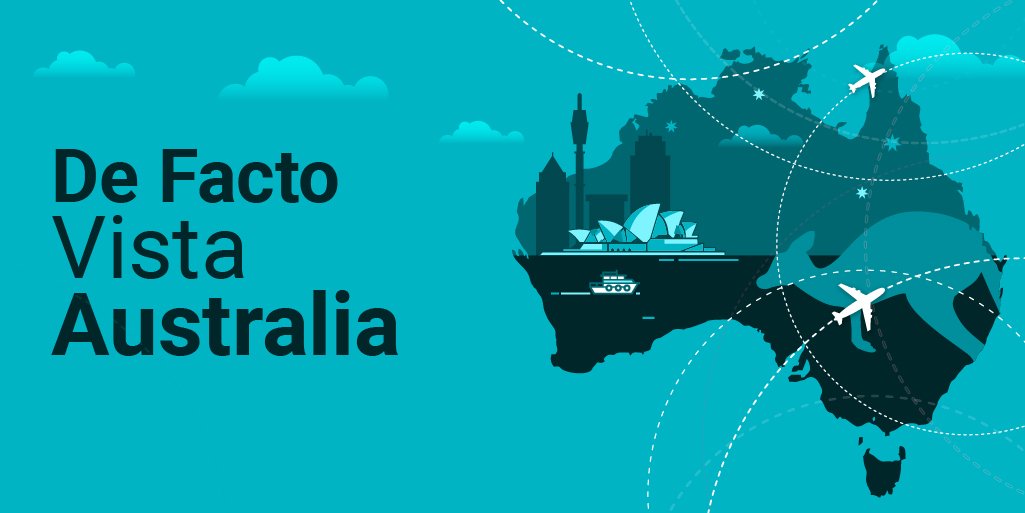 Ready to apply for a partner visa but not yet married? Don't worry, Copson Migration Partners has got you all covered.
As per the rules of Department of Home Affairs Australia, it is mandatory for you to meet the one year De-Facto relationship requirement to be granted a partner visa.
This is important because you have to demonstrate that your relationship with your boyfriend or girlfriend existed for at least one year before you can lodge for a partner visa Australia.
Contact us today by giving us a call and get more information about de facto visa.
What is De Facto Visa?
If you are in a boyfriend, girlfriend relationship, you are welcome to Australia. Even if you are not married to your boyfriend or girlfriend and have kids, but you have been living together for quite a while now, then you may qualify for a partner visa.
However, you don't need to be married for that and this is exactly what the de facto visa is. It allows you to move permanently to Australia and lets you do several different things while you stay in Australia.
As a professional immigration agent in Australia, Copson Migration Partners has helped several people who are committed to each other, move to Australia permanently.
Below we have explained in detail about everything that you need to know about the de facto visa Australia.
What Evidence Is Required To Prove De Facto Relationship?
Before you apply for a de facto visa, it is important that your provide the Australian authorities with the history of your relationship. This will include a signed up relationship statement that will provide the authorities with all the details.
Usually, this statement covers: Details of how, when and where you met your partner, how your relationship developed, proof of commitment of supporting each other which includes financial, emotional and physical commitments, in case there was a separation between the two, you will have to provide a proof of how you kept a close contact during that time duration and finally, what will be your plans for the future.
As a whole, the Australian authorities will require you to provide the details of the following aspects before applying for the visa:
Financial Aspects: It is important that you provide the Australian authorities with a proof of a functional joint bank account that you and your partner use. Moreover, this joint account should have a history of transactions. This will act as a solid proof that you and your partner are sharing expenses together. Some other ways of proving the financial expects is providing proof of joint financial liabilities such as a bank loan, joint lease, joint utility bills, joint healthcare insurance, joint car purchase and insurance cover and joint ownership of house
Nature of Household: When applying for a De Facto Visa Australia, the details of your statement must have a hard evidence that acts as a proof depicting the nature of household that you and your partner are sharing. This could be in the form of some furniture purchase receipts along with joint household bills and also any kind of letters to both of you directed to the same address.
The Social Context: Often times, providing a hard evidence can be very difficult. In general, it is relatively easy to provide the social context of your relationship and be eligible for the visa. In simple, you will have to show that the two of you are accepted as a couple socially. How exactly? There are a few things that you may have to provide. These include photos of you as a couple and with friends and family, the travel documents (flight tickets, hotels booked etc.), proof of social activities that you have indulged in and also proof of common friends
Your Commitment to Each Other: Lastly, there has to be a proof of your commitment to each other as couples. This is usually proven by informing the authorities about the duration of your relationship, for how long you both have known each other, any declaration of intent to have long-term relationship (usually proven by terms of each other's wills), any form of correspondence (letters, emails), and finally the phone details that prove that the couple maintained the contact even during the period of separation
De Facto Visa Australia Requirements
The basic requirement for a De Facto Visa Australia is that the applicant has to demonstrate at least 12 months of cohabitation with their Australian partner in the period before the lodge the visa application. Not to mention that de facto partners could be of both opposite and same sex couples.
Also for de facto visa, if you are:
Onshore: Both the applicants of partner visa are required to hold a valid substantive visa and be in Australia at the time the visa is granted
Offshore: In case of offshore, the partner visa applicants are required to be outside of Australia at the time the visa is granted.
In general, the Australian visa applicants are required to satisfy the health and character requirements.
Relationships With New Zealand Citizens Qualify Too
The first and foremost criterion for the de facto visa program is that you have to be in a traceable relationship with an Australian partner. However, an eligible New Zealand citizen is covered as well. For instance, if you are in a long-term relationship, but not married yet, to a New Zealand citizen that has lived in Australia for 12 months, they can sponsor you to move to the Lucky Country.
What You Can Do With A De Facto Visa?
Move with a partner to Australia: Once you have the de facto visa relationship, the unmarried lovers and couples can move together to Australia. Although in some of the countries gay marriages are not supported. Luckily, as per the de facto visa program, you don't need to be married to move to Australia with the man or the woman
Work, study, travel: Once you get to Australia under the de facto visa, you are eligible to get a permanent partner visa as well. The later also lets you stay permanently in Australia and you will be able to enjoy your rights and benefits, which include the ability to work, study, or pursue business endeavors that are pretty much the same as an Australian citizen. Moreover, you will also qualify for the Australian government healthcare plan (MediCare) along with a few social security benefits.
Pursue love in Australia: Since the de facto relationship categorization is broader, you can be easily sponsored by even those who are in other relationships, or the ones who were previously sponsored under the same visa category.
For instance, if you have a friend who was sponsored to Australia by her Australian boyfriend, then your friend will get to the Land Down Under and lives with him for five years and the relationship ends. Your friend can move out and live on her own in Australia.
Moreover, if your friend obtained a permanent partner visa when she got to Australia and she also kept in touch with you and later on found yourselves in a de facto relationship, then she will be able to sponsor you to Australia whether you are a man or a woman.
Sponsor dependents: With the de facto partner visa, you will be allowed to mention and also bring dependents as part of the application. For instance, let say Michelle has a biological child with her Australian boyfriend Josh, both of them can enlist the child in the visa. Not to mention that this could be an adopted child as well or Michelle's child from another relationship. In either of the cases, it would be acceptable.
We can help and advise on all Applications
For a limited time only we offer a fixed fee of $750 to review your application and advise of any amendments needed to be made.

FAQs About De Facto Visa Australia
Q. How long does a de facto visa Australia takes?
A: On average it takes anywhere between 19 to 24 months for the complete processing of a de facto visa.
Q. Can you work on a De Facto visa in Australia?
A: Only the partner visa holders have full work rights in Australia whether temporary, permanent or prospective spouse.
Q. How do you prove a de facto visa?
A: To prove a de facto visa, you have to provide with proof of living together or at least do not live apart on permanent basis. In case you have been living together but for some reasons one of the partner temporarily moves due to external reasons, it may still be possible to make a successful application.
If you want assistance with the complete application process of a de facto Australia visa, then contact us today at Copson Migration Partners to save yourself time, money and all the hassle you may suffer during the process.