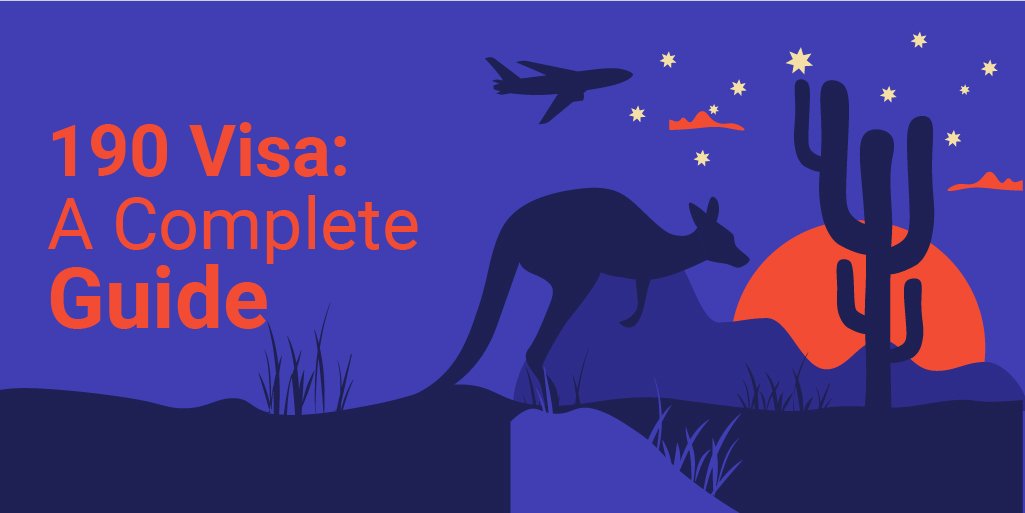 Interested in living and working in Australia? Then the skilled nominated visa subclass 190 is for you.
The Australian states and its territories nominate highly skilled people from around the world on a regular basis to come and work in Australia.
All these nominations are normally carried out under the Skilled Nominated Visa - Subclass 190 Visa. Not to mention that Nominated Subclass 190 Visa is an invites only visa.
Once your visa is approved, you can then live permanently in Australia while you work and also study and participate in different endeavors.
What Is Skilled Nominated Visa - Subclass 190 Visa?
With a Nominated Subclass 190 visa, you are eligible to work and live in Australia. It is a permanent resident work visa. Usually, the foreign-national skilled workers, who have certain skillset on Australia's Skilled Occupation list are eligible for Subclass 190 visa.
Once you have the Nominated Subclass 190 visa, you can easily move to Australia and start work. It is important to note that this visa requires the applicant to complete a certain skills test and only then be nominated by a state or government territory.
Benefits of Skilled Nominated Visa
Having a Skilled Nominated Visa brings you several benefits. As a whole, you get all the benefits of Australian permanent residents both for you and your family.
Some of the benefits of owning a skilled nominated visa include:
Easily work and live in Australia indefinitely
Be able to study in Australia while you work
You become eligible to enroll in Medicare, which is one of Australia's state-care run healthcare program
You get the opportunity to apply for Australian citizenship once you meet certain requirements and eligibility criteria
You can easily sponsor your relatives and family members for permanent residence in Australia
Easily travel in and out of Australia whenever you want
Eligibility Criteria
Here is the eligibility criteria to apply for a Skilled Nominated Subclass 190 visa:
You should have an occupation that is relevant from the 190 visa occupation list
You should have a sufficient skill assessment for the occupation
You should have 65 points to pass in the points test, according to 8th June 2020.
A state or territory government agency should nominate you.
You should lodge an EOI and get an invitation to apply.
You should be in the age range of 18 to 44 years.
You should have competent English.
You should satisfy all health and character requirements.
How To Apply?
There are a few steps that you have to first go through to apply for a skilled nominated visa subclass 190.
1: Checking your occupation
The first step is to check your occupation on the Skilled Occupation Lists. It is important that your occupation is listed here as this visa is only available to individuals who can fill the position on the list.
2: Meeting Eligibility Criteria
The basic eligibility criteria includes the following:
3: Completing Skills Assessment and Submitting Expression of Interest through SkillSelect
4: Obtaining Government Nomination
5: Applying for Skilled Nominated Subclass 190 Visa
6: Waiting for Approval
7: Receive Your Visa & Start Working for the State or Territory Government
What To Do Once You Have This Visa?
Once you have the Skilled Nominate Subclass 190 visa, and you are outside of Australia, you must enter Australia before a date that is specified on your visa grant letter.
Moreover, before you leave for Australia, it is important that you ensure you have a valid visa to enter Australia, a valid passport and other travel documents.
Once you reach the border, you will complete your Incoming Passenger Card. You will be given this card onboard.
Tip: If you have a SmartGate card, you will be able to leave the airport faster as this automated technology uses facial recognition and your ePassport.
Furthermore, once you have this visa and you are official nominated by a state under skilled workers to live and work in Australia with or without family members, the workers who are nominated by an Australian state and territory, and that state and territory will give you permission on your visa application to:
Study in Australia enrol
Submit an expression of interest
Enrol in MediCare Australia
Maybe eligible for a permanent visa
Travel to and from Australia for 5 years
If eligible, become an Australian citizen
Once this visa is granted, you and your family members must obey the Australian laws as soon as possible. And since this is a permanent visa application, you can stay in Australia for an indefinite time period upon nomination. You must meet and must provide evidence before you apply for this visa.
Not to mention that visa applications require 65 points on your score card. You can check the detailed list of points table on the official website of Department of Home Affairs.
The State or Territory may also require English language test for visa application. Contact a migration agent like Copson Migration Partners today and see whether or not you are eligible for this visa. We are registered migration agents by the state and territory government. We will help you with points score, to receive an invitation by the state and territory government, help with Australia enrol in MediCare, which English language test you need to pass, work experience, and any other thing require so that you may be eligible to apply for this visa. We invite you to apply and give us a call today for more details about our services.
We can help and advise on all Applications
For a limited time only we offer a fixed fee of $750 to review your application and advise of any amendments needed to be made.

Frequently Asked Questions About Skilled Nominated Visa
Q. How do I get nominated for subclass 190?
For this, you have to check your occupation on Skilled Occupation List, ensure you meet all eligibility criteria including points score, work experience, points test, years of age etc., complete skills assessment test, submit expression of interest EOI, obtain a government nomination, apply for visa for an Australian state or territory, wait for the decision, receive your visa and start working.
Q. Is 190 a PR visa?
It is a permanent residency skilled migration visa for the people who meet the eligibility criteria of the skilled occupation list.
Q. How long does it take to get invitation for 190 visa?
Typically it gets processed within six to seven months.
Q. Is 70 points enough for 190 visa?
The minimum points required to apply for this visa are 65.
Q. Which visa is better 189 or 190?
The 189 visa has no sponsorship requirement while the other one has. You must be nominated by Australian state or territory or invited to apply by the state or territory for the 190 subclass visa.